It's hot. H-O-T and not in a good way. As in hell-is-cooler kind of way. As in the Shel Silverstien "It's Hot", kind of way.
It's Hot!
By Shel Silverstein
It's hot!
I can't get cool,
I've drunk a quart of lemonade,
I think I'll take my shoes off
And sit around in the shade.
It's hot!
My back is sticky,
The sweat rolls down my chin.
I think I'll take my clothes off
And sit around in my skin.
It's hot!
I've tried with 'lectric fans,
And pools and ice cream cones.
I think I'll take my skin off
And sit around in my bones.
It's still hot!
As in there is no way I am turning the oven on or standing over a hot stove, kind of way. As in my family is tired of cold cuts, and is demanding something of sustenance kind of way. So, that brings me to dinner. I was pretty much given the impression, should I make a generic "fend for yourself" kind of cold cut sammich for them again tonight, the possiblity of me being stoned to death is likely. I have to admit, I am pretty tired of them too. It was while pondering dinner that I remembered we have a George Foreman that my lovely sister bought for us as a wedding gift. THANK YOU SWEET SISTER. And you know what, there is nothing I love more about the good old George, than using it to make Paninis! AND do you know what I discovered while scouring the corners of the Internet for Panini recipes? August is NATIONAL PANINI MONTH!
Now, I realize that most of you will not derive the same pleasure from this tidbit of knowledge as I will, but none the less. I have decided to make this post an homage to Paninis. But WAIT you say, isn't a Panini a SAMMICH? And won't you be STONED if you make one for them? Aww thank you so much for the care and concern, but a Panini is not JUST a sammich. It is a glorious, gourment sammich with wonderful bread and delicious cheeses smashed together placed over heat so the bread becomes gloriously toasted! Mmmmmm making my mouth water already, and here are few recipes that I have found that I will be trying!
Do you think 31 days of Paninis would be overkill? Neither do I!
Enjoy!!!!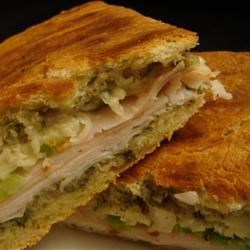 Ingredients
1 focaccia bread, quartered
1/2 cup prepared basil pesto
1 cup diced cooked chicken
1/2 cup diced green bell pepper
1/4 cup diced red onion
1 cup shredded Monterey Jack cheese
Directions
Preheat a panini grill.

Slice each quarter of focaccia bread in half horizontally. Spread each half with pesto. Layer bottom halves with equal amounts chicken, bell pepper, onion, and cheese. Top with remaining focaccia halves, forming 4 sandwiches.

Grill paninis 5 minutes in the preheated grill, or until focaccia bread is golden brown and cheese is melted.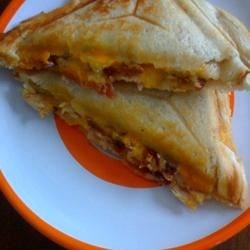 Ingredients
2 slices sourdough bread
1/4 cup Caesar salad dressing
1 cooked chicken breast, diced
1/2 cup shredded Cheddar cheese
1 tablespoon bacon bits
1 1/2 teaspoons chipotle chile powder, or to taste
2 tablespoons softened butter
Directions
Preheat a panini press for medium-high heat.

Spread one side of each piece of bread with the Caesar dressing. Place the chicken on top of the bottom slice, sprinkle with Cheddar cheese, bacon bits, and chipotle chile powder. Place the top piece of bread onto the sandwich, and butter the outsides with the softened butter.

Cook on the preheated grill until the bread is crispy and golden brown, and the inside of the sandwich is hot, about 5 minutes
Turkey Avocado Panini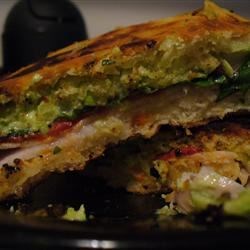 Ingredients
1/2 ripe avocado
1/4 cup mayonnaise
2 ciabatta rolls
1 tablespoon olive oil, divided
2 slices provolone cheese
1 cup whole fresh spinach leaves, divided
1/4 pound thinly sliced mesquite smoked turkey breast
2 roasted red peppers, sliced into strips
Directions
Mash the avocado and the mayonnaise together in a bowl until thoroughly mixed.

Preheat a panini sandwich press.

To make the sandwiches, split the ciabatta rolls in half the flat way, and brush the bottom of each roll with olive oil. Place the bottoms of the rolls onto the panini press, olive oil side down. Place a provolone cheese slice, half the spinach leaves, half the sliced turkey breast, and a sliced roasted red pepper on each sandwich. Spread half of the avocado mixture on the cut surface of each top, and place the top of the roll on the sandwich. Brush the top of the roll with olive oil.

Close the panini press and cook until the bun is toasted and crisp, with golden brown grill marks, and the cheese has melted, about 5 to 8 minutes.
** These and other Panini recipes can be found at allrecipes.com.